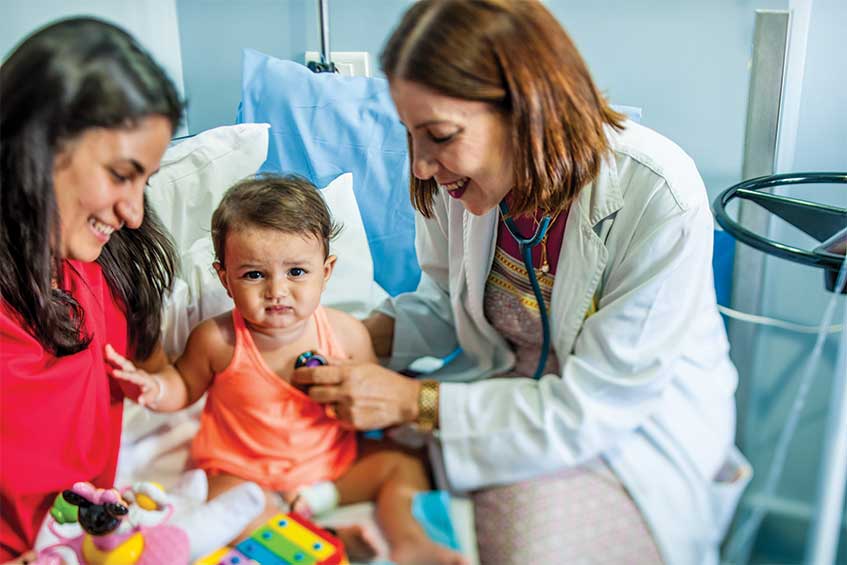 The Pediatrics Department is situated in the third floor and it is composed of 13 rooms including a surgery room, an isolation room, a baby care room and bedpan washer.
Every day, a psychologist does a tour inside the department in order to visit the children and their parents and to make sure that good communication and trust are guaranteed between parents and the nursing corps.
1. Mission of the Department
Maintain a high level of health care quality
Insure the continuity of work 24h/24
Insure recruitment methods that are specific to children and taking into consideration their illnesses.
Create the appropriate assistance relationships towards the child and his family
Enhance the healthcare quality through the participation of the staff in the continuous training and through the application of the rules and policies imposed by the Department of by the Nursing Directorate.
Collaborate with all healthcare departments for a better work progress.
Internal Regulations of the Department
The Pediatrics Department receives children aged between 1 month and 14 years.
An exception of a mother-child support for duration of not more than 48 to 72 hours is made to children hospitalized in neonatology before returning home.
Any invasive procedure shall be made in the operations room except for isolated children
Our Department guarantees leisure activities such as the distribution of balls and colored pencils to children based on their ages.
Each year we celebrate Christmas and Children's day and we distribute presents to children.
Each week we make a leisure activity based on a previously- prepared plan
Staff
Medical staff :
Chief Physician: Dr. Michel Khoury
Pediatricians and specialists
Residents who cover the service and pediatric emergencies
Our service is the only service among northern hospitals that presents a pediatric resident.
The various categories of health staff:
Supervisor: Ms. Amal Talkhawi
Head Nurse: 3 per day shift and 3 per night shift: Saja Hammoud, Hiba Hawchar, Mirna Mir, Laurdesse Ayoubi, Georgette Metlej, Layal Sayed, Sara Fawal, Dalia Chalak, Rana Ayoubi, Sara About, Diana Hajjeh, Rafa Raii
Nurse: 1 per day shift: Hazim Fatmeh, Soumaya Ghabati
Nursing assistant: 2 per day shift and one for night shift: Gharam Fehmeh, Mirna Kassem, Zahra Kerhani, Jamileh Mhamad
Hospital Health Agent.
The number of each class is distributed according to several criteria: the number of patients, workload, holidays…