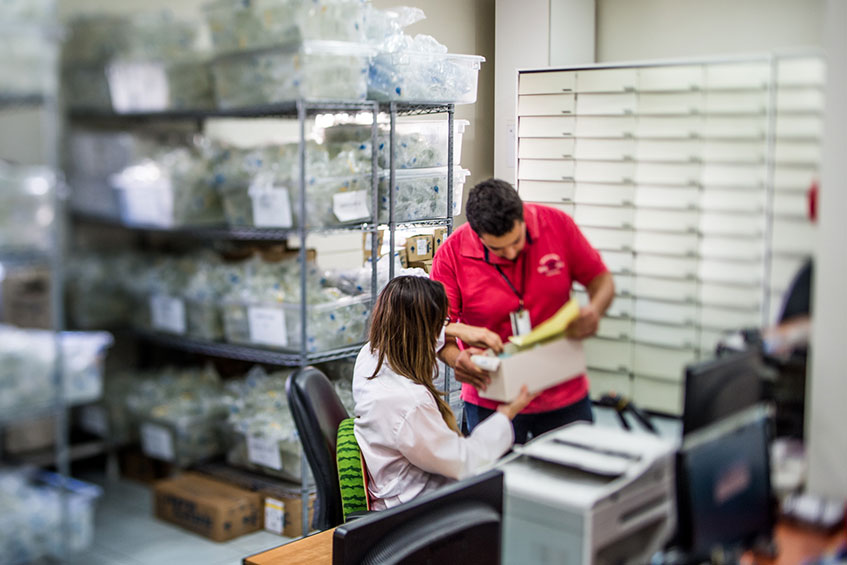 1. Mission of the department:
The pharmacy's main mission is to deliver the drugs to patients hospitalized from the orders made by the doctors of the hospital.
The pharmacy is responsible for the purchase, supply, control, storage and dispensing of pharmaceuticals. It conducts information campaigns and participates in all attempts to improve the quality and safety of treatments. (Dosage control, administration, interactions, against-indications and side effects)
Another role is to participate in the training of future pharmaceutical professionals.
Activity area:
Purchase and supply of drugs and serums
Dispensing medication daily hospitalization and control requirements
Cytotoxic reconstitution unit (RCU) premises equipped with laminar air flow hoods for the preparation of injectable anticancer chemotherapy in order to secure the manufacture and quality control
Contribute to the proper drug use and secure their circuit pharmaceutical analysis of prescriptions and dissemination of validated information
Assist in pharmacovigilance and medical device
Develop a quality approach for all of its activities
Teaching-training for internal and external pharmacy, hospital pharmacy preparers, nurses and orderlies
2. Committees:
Pharmacy Department plays a very important role in Organizing and / or participating in the various committees to ensure the security of the care of patients:
CLIN (committee against infections)
Pharmacy Committee
Quality Committee
Patient Safety Committee
3. Pharmacists:
Head department: Pharmacist Nazih Dabboussi
Clinical pharmacist: Dr. Mia El Baff
The technicians:
​Ms. Rana Kaddour
Ms. Najwa Tom
Mr. Omar Baroudi
Mr. Yassine Masri
Mr. Mahmoud Kerdieh
Mr. Mohamad Zock
Mr. Abdel Rahman Obeid
4. Values:
In order to provide excellent health services, the team of the Department of Pharmacy endorses the following values:
Respect, resulting in relationships based on the consideration, listening, trust, openness, tolerance and honesty.
The collaboration, which results in the sharing of information, knowledge and experience in teamwork worry.
The leadership, resulting in the continuous improvement of quality and performance through innovation and responsible management.